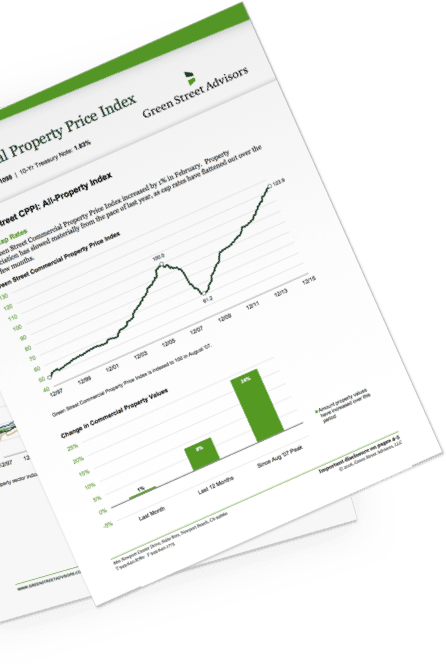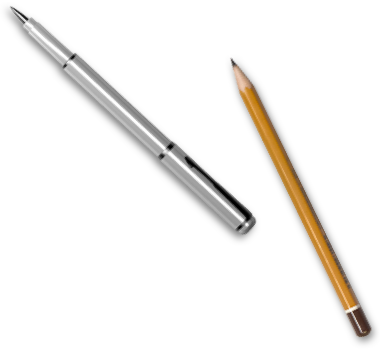 Industry-leading commercial real estate intelligence and analytics to make better and faster investment decisions.
Our comprehensive platform, proven track record, exclusive news and 35+ years of trusted insight offers a powerful solution to help market participants maximize every opportunity and drive returns.
Featured Content
Differentiated and unbiased perspective for better decision-making
New Granular Data Enhancements
Green Street has added historical market-level rent growth and occupancy data to its U.S. Market Data product which offers extensive forecasts, time series, macroeconomic scenarios, verified sales comps & more granular data for seven property sectors.
Webinar: Challenges Ahead as '24 Looms
Join Green Street for a 45-minute discussion across Residential, Industrial, Office, Data Center, Self-Storage, and Retail with our Sector Specialists to hear our Research Team's views on the outlook in each property space on December 7, 2023.
Property Prices Decline on Higher Rates
The Green Street Commercial Property Price Index® decreased by 3.3% in October.
Green Street Acquires Local Data Company (LDC)
Green Street's latest acquisition expands its Pan-European product suite with the addition of extensive granular UK retail and leisure location data.
2023 Industry Leaders Discussion: Conversation with Mike Van Konynenburg
The CRE investment market has seen sizable changes in values over the past year, yet the interest rate environment remains volatile and transaction markets uneven. Tune in to a conversation between Green Street and Mike Van Konynenburg, President of Eastdil Secured.
Upcoming Webinar: What's Next for Commercial Real Estate?
Commercial real estate investors across the globe remain concerned about declining property values, limited transaction activity and tightening credit standards.
Green Street data is now available on Snowflake!
Green Street has partnered with Snowflake and is engaging with their Data Cloud to deliver data in an easy-to-access format. This new data delivery method helps you to easily extract extensive time series and seamlessly incorporates into your own company models, integrations, and daily workflows.
Expanded U.S. Senior Housing Coverage
Green Street expands its private market solution with the addition of Senior Housing data and analytics across the top 50 U.S. markets.
Identifying CRE Opportunities: A Market-Level Analysis
Green Street will analyze changes on the horizon for several commercial property sectors at the market level during a 45-minute webinar on August 10.
2023 Industry Leaders Discussion: The Future of Office
Join us on August 1 for a conversation with Lisa Picard, Partner at VC firm Sway Ventures, and former CEO of Blackstone's EQ Office to discuss the future of hybrid/remote work, the impact of AI on real estate, and other trends shaping the Office sector.
CNBC Squawk Box Interview: Dangers Lurking in Real Estate?
In this exclusive interview with anchor Becky Quick of CNBC Squawk Box, Green Street's EVP and Director of Research Cedrik Lachance, provides his outlook on cash-flowing property sectors, the Office sector and the challenges facing some commercial real estate lenders and borrowers as a potential wave of loans is expected to come due over the next three years.
Industrial Outdoor Storage: A Beautiful Ugly Duckling
The simplest definition of IOS is a land site zoned for an industrial use where the tenant can store something outside, most commonly vehicles, construction equipment, building materials, or containers. Read the blog to learn more about the Industrial sector.
You can now rank property sectors on the impact of "E"!
Get a truly comprehensive view of the "E" costs and impacts, across the commercial real estate sector, with the new "E" Metrics - now available in Company Analysis. Green Street's "E" Metrics take into consideration Regulatory Risks, Compliance Costs, Grid Greenness, and Energy & Emissions Intensity.
Green Street: The Commercial Real Estate Thought Leader
Find out why Green Street's intelligence, backed by a talented team and thriving culture, can offer a competitive edge for investment decision-making or a rewarding career.
New Broker Rankings & Special Supplement
Access Real Estate Alert's $5-25M new Broker Rankings in this complimentary special supplement, which contains fresh market data and news across multiple property sectors.
Green Street Launches U.S. Rent Comps
Green Street's new U.S. Rent Comps database, in partnership with CompStak and Beekin, provides a property-level view of effective rents across Office, Industrial, Apartment, and Strip Center property sectors, with a variety of building metrics to help determine the current value of a property.
2023 Sector Outlooks Have Released!
Green Street is excited to unveil the eight new 2023 U.S. Sector Outlooks. Gain an in-depth understanding of supply and demand dynamics, risks and opportunities, valuation trends, capital expenditures, and return expectations.
What Direction is Private Market Pricing Headed?
Green Street has released its inaugural Commercial Property Monthly report, providing detailed cross-sector valuations for the U.S. private-market, delivered monthly.
Market Forecasts – 334 Tertiary Markets Added
Better understand, anticipate and evaluate market health across the U.S. with our Market Forecasts data tool. Now combining operating fundamentals and valuation metrics across sectors and tertiary markets under various macroeconomic scenarios.
How Inflation Is Impacting Commercial Real Estate: By the Numbers
A confluence of factors, including skyrocketing energy prices, dwindling consumer confidence, volatile debt markets, and negative feedback from plunging asset prices, has resulted in a slowing U.S. economy.
Green Street Launches Robust New Web Platform
Experience a comprehensive new web platform providing enhanced access to our commercial real estate intelligence, delivered through a cutting-edge and intuitive design. Discover fully integrated public and private market research and data tools, and so much more.
Over 450 years of collective experience
Our large, experienced analyst team provides views on the global economy, REITs, individual properties and everything in between. Our analysts specialize by property type and move beyond superficial statistical tools to evaluate properties, markets, and companies with depth.
Hypothetical Track Record
20% Average Annualized Return on Buys
For over 25 years, our Buy recommendations for publicly-traded stocks have outperformed our Sells by an average of 20 percentage points each year. Our team of experienced analysts has a proven track record projecting the direction of commercial property and REIT market values.

Become a client
Learn about our Services
To inquire about becoming a client, or if you have any questions about any of our products and services, please contact Sales at +1 (949) 640-8780 or follow the link below and complete our online form.
To become a client or learn more about how our service offerings can benefit you, please call our sales team at +44 (0)20 3793 7000 or follow the link below and complete our online form.
*Please note that we only accept as clients entities or persons who can be classified as professional clients or eligible counterparties under the FCA rules.