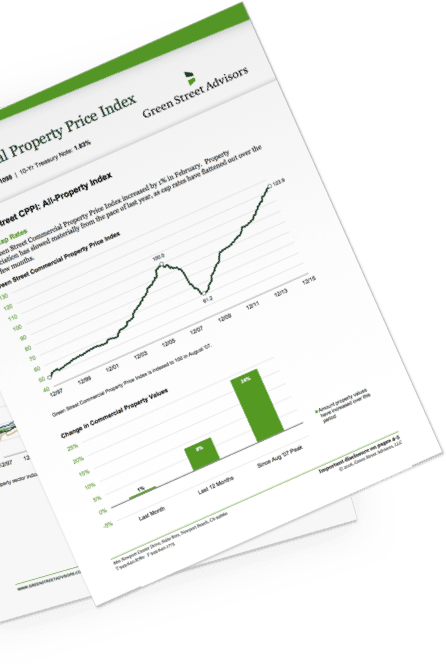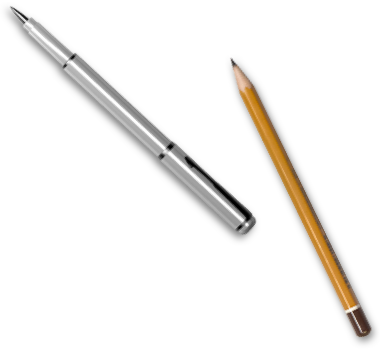 Industry-leading commercial real estate intelligence and analytics to make better and faster investment decisions.
Our comprehensive platform, proven track record, exclusive news and 35+ years of trusted insight offers a powerful solution to help market participants maximize every opportunity and drive returns.
Featured Content
Differentiated and unbiased perspective for better decision-making
Commercial Property Market Stuck in the Mud
The Green Street Commercial Property Price Index® increased by 0.1% in May.
CNBC Squawk Box Interview: Dangers Lurking in Real Estate?
In this exclusive interview with anchor Becky Quick of CNBC Squawk Box, Green Street's EVP and Director of Research Cedrik Lachance, provides his outlook on cash-flowing property sectors, the Office sector and the challenges facing some commercial real estate lenders and borrowers as a potential wave of loans is expected to come due over the next three years.
You can now rank property sectors on the impact of "E"!
Get a truly comprehensive view of the "E" costs and impacts, across the commercial real estate sector, with the new "E" Metrics - now available in Company Analysis. Green Street's "E" Metrics take into consideration Regulatory Risks, Compliance Costs, Grid Greenness, and Energy & Emissions Intensity.
The Upside of "E"-Valuating Portfolios Through an Environmental Lens
Global attention from regulators and investors on the "E" – or Environmental part of ESG in commercial real estate – is rapidly accelerating. Environmental issues in commercial real estate, particularly as they relate to energy and emissions, are complex and opaque. Tune in to learn how we're incorporating "E" into our property underwriting.
Green Street: The Commercial Real Estate Thought Leader
Find out why Green Street's intelligence, backed by a talented team and thriving culture, can offer a competitive edge for investment decision-making or a rewarding career.
New Broker Rankings & Special Supplement
Access Real Estate Alert's $5-25M new Broker Rankings in this complimentary special supplement, which contains fresh market data and news across multiple property sectors.
It's Not All Doom & Gloom: Midyear Sector-Level Takeaways
While the Office sector has suffered over the past five years, it's only one segment of the vast and diversified U.S. commercial property market. In fact, Green Street covers 17 sectors, many of which feature healthy fundamentals and offer solid long-term growth opportunities for investors. Join us for a 45-minute webinar with Green Street's sector specialists on June 14 as they discuss the opportunities and confront the challenges facing ten key sectors – Industrial, Malls, Office, Self-Storage, Strip Center, Data Center, Health Care, Life Science, Apartment and Single-Family Rental – at the midway point of 2023.
Green Street Launches U.S. Rent Comps
Green Street's new U.S. Rent Comps database, in partnership with CompStak and Beekin, provides a property-level view of effective rents across Office, Industrial, Apartment, and Strip Center property sectors, with a variety of building metrics to help determine the current value of a property.
2023 Sector Outlooks Have Released!
Green Street is excited to unveil the eight new 2023 U.S. Sector Outlooks. Gain an in-depth understanding of supply and demand dynamics, risks and opportunities, valuation trends, capital expenditures, and return expectations.
U.S. Self-Storage Webinar: Rolling Down the Garage Door on Record-High Growth
The self-storage sector was one of the big winners from the pandemic, with occupancy, rents and cash flow surging to record levels. However, the property type began to experience a notable moderation of these elements during '22. Register now to tune in.
What Direction is Private Market Pricing Headed?
Green Street has released its inaugural Commercial Property Monthly report, providing detailed cross-sector valuations for the U.S. private-market, delivered monthly.
U.S. Retail Sector Webinar – Brick and Mortar Strikes Back
Join Green Street for a 40 minute discussion covering key aspects of the multi-faceted retail real estate environment with three of our analysts covering strips, malls, and net lease.
A Conversation with Mike Van Konynenburg: President of Eastdil Secured
Commercial real estate investment market participants are navigating rising interest rates, persistent inflation, and the prospects of a recession. To gauge the impact of these macro forces on commercial real estate investing and the capital markets, Green Street turns to a highly respected industry leader: Mike Van Konyenburg, President of Eastdil Secured.
Market Forecasts – 334 Tertiary Markets Added
Better understand, anticipate and evaluate market health across the U.S. with our Market Forecasts data tool. Now combining operating fundamentals and valuation metrics across sectors and tertiary markets under various macroeconomic scenarios.
Mid-Year Broker Rankings & New Special Supplement
Access Real Estate Alert's $5-25M Mid-Year Broker Rankings in this complimentary special supplement, which contains fresh market data and news across the office, multi-family, industrial, retail, hotel, and self-storage sectors.
Green Street Launches European Sales Comps Database
Stay ahead of your peers when making investment decisions across office, retail, industrial, and residential sectors by leveraging this robust, interactive database of verified property transactions valued at €5mn and up.
How Inflation Is Impacting Commercial Real Estate: By the Numbers
A confluence of factors, including skyrocketing energy prices, dwindling consumer confidence, volatile debt markets, and negative feedback from plunging asset prices, has resulted in a slowing U.S. economy.
TA Associates to Acquire a Majority Interest in Green Street from Welsh, Carson, Anderson & Stowe
TA Associates ("TA"), a leading global growth private equity firm, has signed a definitive agreement to make a significant growth investment in Green Street.
Will the Cure Be Worse Than the Disease?
Inflation has placed downward pressure on commercial property prices. Today's investment professionals lack experience to help assess the impact that stubborn inflation might have on real estate, but lessons from past interest rate/inflation scares offer insight. Download this Featured Insight today!
DataLink Excel Plug-In Tool, Now Enhanced
Enhance your investment analyses by housing Green Street's U.S. and Pan-European commercial real estate data in one Excel plug-in tool, and save time with refreshable, comprehensive intelligence, customizable data tables, and dynamic and automatically updated queries that easily embed in your workflow.
Lodging Sector: Three Trends for Investors to Watch
The hotel industry has suffered through one of the worst downturns in its history, and yet the recovery over the past few years has been fairly robust. Watch our new video blog to find out which three trends lodging sector investors need to watch in a post-Covid environment.
Green Street Launches Robust New Web Platform
Experience a comprehensive new web platform providing enhanced access to our commercial real estate intelligence, delivered through a cutting-edge and intuitive design. Discover fully integrated public and private market research and data tools, and so much more.
Product Release! Green Street's API
Integrate Green Street's most up-to-date proprietary private and public market data points, including 1,500+ data series accessible through 15+ endpoints, directly into your workflow. Set up is a simple.
AFIRE Podcast with Dave Bragg: Herd Community
Uncertainty surrounding remote work and politics suggest a wide range of potential outcomes for big cities, which may upend the long-running megatrend toward urbanization.
For Global Retail, Opportunity Knocks: Excellent!!
Every commercial property sector in Green Street's CPPI is valued above the pre-GFC, 2007 benchmark of 100, except one: Malls, which stand at 80.3. The Mall sector CPPI index is down 17% post-Covid.
Signals from the Public Market
Observed premiums/discounts in the public market have historically been reliable predictors of future changes in private market prices.
Over 450 years of collective experience
Our large, experienced analyst team provides views on the global economy, REITs, individual properties and everything in between. Our analysts specialize by property type and move beyond superficial statistical tools to evaluate properties, markets, and companies with depth.
Hypothetical Track Record
20% Average Annualized Return on Buys
For over 25 years, our Buy recommendations for publicly-traded stocks have outperformed our Sells by an average of 20 percentage points each year. Our team of experienced analysts has a proven track record projecting the direction of commercial property and REIT market values.

Become a client
Learn about our Services
To inquire about becoming a client, or if you have any questions about any of our products and services, please contact Sales at +1 (949) 640-8780 or follow the link below and complete our online form.
To become a client or learn more about how our service offerings can benefit you, please call our sales team at +44 (0)20 3793 7000 or follow the link below and complete our online form.
*Please note that we only accept as clients entities or persons who can be classified as professional clients or eligible counterparties under the FCA rules.