Exclusive Sector Outlook: Spotlight on U.S. Single-Family Rental Demand
Green Street just released 11 new 2022 Sector Outlooks with in-depth analytics on supply/demand, risks/opportunities, and property valuation trends across markets in the U.S. and Europe. This year's U.S. Single-Family Rental (SFR) Outlook contains expanded private market-level data including proprietary market grades, rent and occupancy growth forecasts, as well as cap rate and Commercial Property Price Index (CPPI) time series.

Favorable demographics, rapidly rising home prices over the past decade and an increase in remote working catalyzed by the Covid-19 pandemic make SFR housing one of the most attractive sectors covered by Green Street. According to our 2022 U.S. Single-Family Rental Outlook Report, the primary concerns among investors include projected spikes in operating costs and cap-ex, as well as potential political risks over the next few years. In spite of these pressures, the SFR sector features above-average unlevered return expectations versus other property sectors.
Household Formations Spurring SFR Demand
Currently, there are 330 million people living in the U.S. and who reside in approximately 125 million dwellings. Among the total occupied housing units nationwide, there are 16 million SFR homes, representing 35% of all rental units. Over the past decade, there has been a 25% increase in the number of occupied SFR units.
Household formations are a key measure of housing demand. Over the next five years, we anticipate demand for approximately 7.5 million additional housing units, 10% above the average annual growth observed over the last ten years. Approximately 810,000 new households are expected to sign leases for single-family rentals, 1.5 times higher than the number of new apartment renters.
Population growth among millennials aged 34 to 44, one of the primary renter cohorts of single-family homes, is slated to nearly double over the next five years. Sun Belt metros − where a disproportionate share of U.S. SFR portfolios is located − should see better-than-average growth.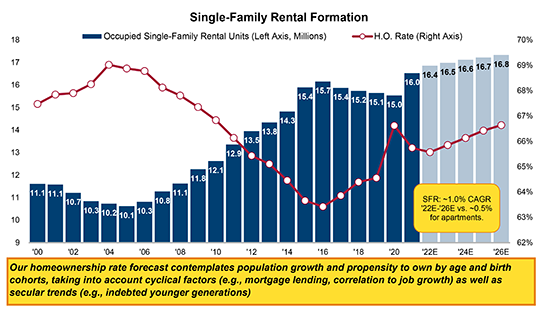 Sources: U.S. Census Bureau, Oxford Economics, and Green Street
Aging millennials will seek more space as they enter later stages of their lives, including marriage, having children, etc., thus bolstering SFR demand in the next three to five years. Retirees and baby boomers will also fuel demand for SFR homes as they downsize from larger owner-occupied homes, de-couple or become empty nesters.
Current demographic trends support both single-family ownership and single-family renting. While Sun Belt markets have been in the spotlight for future population growth, certain suburban coastal markets should see ample rental demand for single-family homes.
Rental Housing Supply Continues to Dwindle
The pandemic accelerated homebuying decisions for many U.S. residents, leaving a limited number of homes available for purchase, and driving up prices. Homebuilders have responded to surging demand for housing and are attempting to build more single-family homes, including build-to-rent (BTR) housing. While supply and permitting trends suggest more supply is coming, prices may rise further as bidding tents consist of owner occupants and large institutions trying to grow their respective SFR platforms.
Expanded Supply/Demand Forecasts Among New Enhancements to U.S. SFR Outlook
To learn more about private market SFR supply and demand trends − one of many new enhancements to our 2022 U.S. SFR Outlook Report, contact us. The SFR Outlook Report, along with the 2022 U.S. Self-Storage Outlook, contain expanded private market-level data that includes:
Proprietary market grades (available by contacting us)
Nominal cap rate time series data
Market RevPAF growth forecasts
CPPI time series
Much more
Market Grades
Green Street assigns proprietary market grades to the top markets we cover in the U.S. and Europe that range from A++ to D. These market grades are among our most popular and heavily relied upon metrics by commercial real estate professionals. Letter grades represent long-term rent growth potential, available at the market, submarket, NUTS3 and zip code level. The Market Grades are based on 10 variables, with seven components standardized across all sectors, and three customized to each sector. A few examples of the components include supply barriers, fiscal health, climate event risk, and human capital.
While SFR sector drivers are fairly correlated with the apartment sector, Green Street more heavily weights barriers to homeownership for SFR (e.g., home price/income). As for the Apartment Outlook, we place more focus on high-paying job growth.
Changing Lifestyles Favor the Rental Living Experience
Shifting preferences among young adults and retirees have impacted the entire commercial real estate market, not to mention the residential market. During the pandemic, there was a movement among office-using professionals to move from apartments and rental homes in high-priced urban areas such as San Francisco and New York, to more affordable rentals in suburban locations with ample space, backyards for children and pets, and easier access to green space.
This year, the decision among U.S. residents to buy or rent will incrementally hinge on the state of their household finances, single-family home affordability and inflationary pressures on the economy.
Pandemic Disruption Sways Homeownership Rates
Census surveying disruption volatized homeownership-rate readings in 2020 and 2021. Nonetheless, over the next several years, Green Street expects a modest upward climb in homeownership, driven by an aging renter base, the strengthening labor market and increased disposable incomes/greater savings among affluent renters. Fast-moving home price appreciation and limited for-sale inventory will temper the upward path to a degree, as a large share of renters remain priced out of the market.
Which Metro Areas Are Primed for Investing?
Green Street's 2022 U.S. SFR Outlook details which metro areas are primed for growth and offer the highest returns for investors. Some recent statistics from the National Rental Home Council (NRHC) provide some hints. SFR owners and operators (both public and private) have a definite preference for rentals in warm-weather states, particularly in the Sun Belt.
Here is a breakdown of states where SFR companies own the most properties:
Georgia – 5.1%
Florida – 4.2%
Arizona – 3.7%
Nevada – 3.3%
North Carolina – 3.0%
This is just a small sample of the insights available in Green Street's new 2022 Sector Outlooks, which include U.S. reports for Single-Family Rental, Self-Storage, Apartment, Office, Industrial, Mall and Strip Center sectors, as well as Pan-European reports for Residential, Office, Industrial and Retail sectors.
Request a sample report and contact us for more information on the actionable insights Green Street clients are relying on to steer their investment strategies in 2022 and beyond.
In case you missed it:
Watch the replay from our recent U.S. office webinar entitled, What Will the Covid Spike Bring for U.S. Office in 2022?
Register now or watch the replay of our February Pan-European Residential webinar: Capital Pouring In.
Learn more about our insights
Our thought leadership helps thousands of clients make better investment decisions every day. Inquire here to learn more about Green Street's product suite.
More Stories
---
Industrial Outdoor Storage: A Beautiful Ugly Duckling
Office Sector: Survive Until 2025
Annual Mall Grade Review: Mall Performance Improves